Chez Toby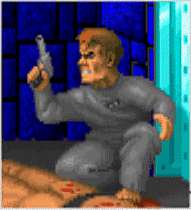 Hi. This is my page. And boy is it better than what it used to be! At least this one has been updated in the past 10 years...
Anyways, here are the highlights of my internet life (on the web at least):
The Unofficial Dauphin DTR-1 Home Page - The classic page I've been maintaining not-so-frequently since I put it up in 1995....
I've written a lot of Linux software that is available for free on SunSITE ... the king of Linux archives. Feel free to dig through the 20,000 files and find my name in the credits of 15 or 20 small pieces of software...woohoo.
Oh yeah....and check out my Eskimo-Linux-PPP-HOWTO telling you how to set up Linux to work with my ISP.....of course this hasn't been updated for 10 or 20 centuries either....but what do you expect from me?
Maybe sometime I'll put more stuff up on this page....based on how much time I've had in the past, probably not ;) Oh well...
---
Chez Toby was brought to you today by the letters D, U, M and B.