List of DOS-based palmtop computers


This is just my personal list that i made due to my obsession with DOS-based palmtop computers. I like MS-DOS and AA-Batteries - some machines are a bit too large to fit on a palm, but i still included them because i felt fellow collector might like them. I only list x86 compatible machines, so if they can't run DOS I'd normally not include them here. Yeah, so no "Windows CE" or MIPS linux machines, sorry! Also i could include some normal modern netbooks here - i have loads of these, but i try to keep this space reserved for the vintage ones. Maybe I'll make some seperate UMPC list one day, but i usually always lack time.

About "fair use" policy for photos: I have many of the palmtops i listed here - some photos i have been emailed or found them on a website myself, some are from official manufacturers advertisement, but to get this list going I mainly used photographs i did not take myself. I regard this to fall under the "fair use" law. You may have noticed that there are no ads on this site and I am kinda non-profit organization here. I try to provide infos, help and useful files for fellow palmtop enthusiasts. But i will REALLY try to replace them with my own pictures whenever possible very soon, i just lack the time. I already have a half SD card full of photos - many just didn't come out very well and it also requires some time to sort and cut them. Also there are some palmtops i simply don't own myself. If i "stole" your picture and it is not replaced with my own in the next few months then maybe it was the only picture of that machine i could find in the free western world. Please understand that i want to preserve the knowledge about these machines for future generations. If you don't like the idea of "fair use" then let me know (my e-mail and link to my forums are a few paragraphs further down this page), maybe i can buy your palmtop, maybe i can give you another rare palmtop for it or maybe i can just work it off (I am good at programming, repairing laptops, 3d graphics), or i can just get my ass up and take a photo of my own one (if i have it). I am sure we can work something out. So thanks in advance for helping me out by discussing the matter with me first.
There will probably always be some point of discussion about whether a machine should be included or not.
I have included some machines that are probably a big too large to deserve the term "palmtop" or "handheld" still i felt fellow collectors or enthusiasts may be interested in these.
I tried to group them halfway reasonable which may not always be optimal.
The reason i made this list is that i have not found any other source with detailed infos about DOS-based palmtops so it was sometimes hard to find any information at all. This page contains all the infos i could collect. While 99% of the info should be accurate i can not 100% rule out that i make mistakes, message me at hiddenbelow dot com at gmail dot com to report any mistakes or missing models.

So here is my email again (image to keep away spammers):





- Try to put PALMTOP in the subject line.
But i would prefer if you could post in the forums so my spam filter can't eat your mail accidentially.

If you want to know more about the infamous Tidalwave palmtops then click here


Read here why DOS on a modern UMPC may not be such a great idea.



The List
---

HP 95LX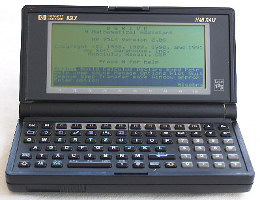 HP 100LX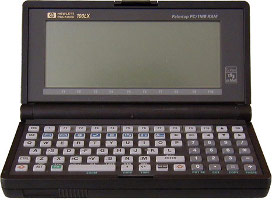 HP 200LX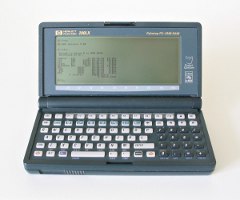 HP 1000CX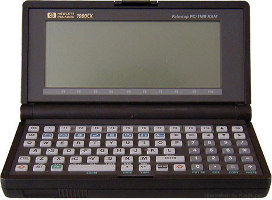 HP OmniGo 700LX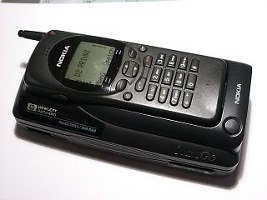 ---

Poqet PC Classic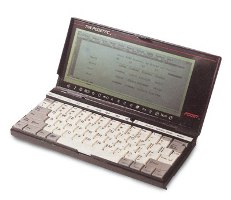 Poqet PC Prime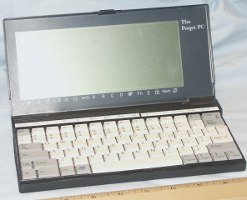 Fujitsu Poqet PC Plus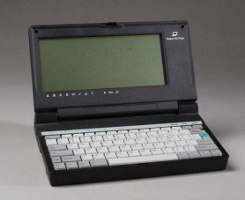 Poqet Pad (Touchscreen version of the poqet PC)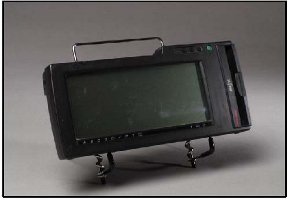 Poqet Pad Plus (Touchscreen Version of the Poqet PC Plus)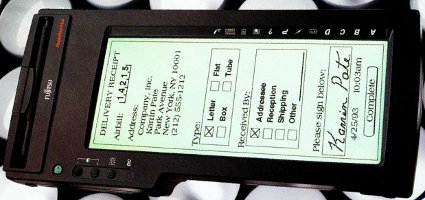 Rugged (A rugged version of the Poqet PC)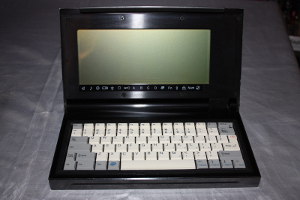 ---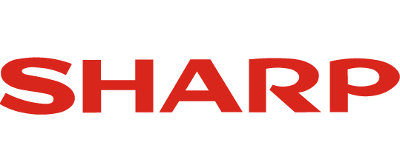 Sharp PC-3000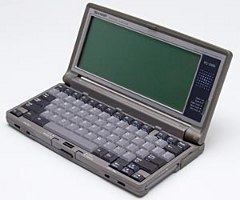 Sharp PC-3100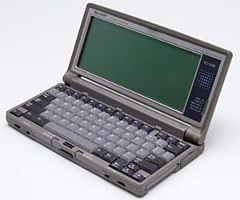 Gestra VKP20/VKPN20 (Sharp PC-3000)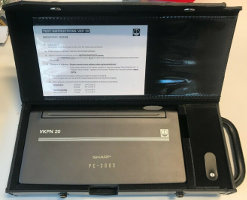 ---

Tidalwave PS-1000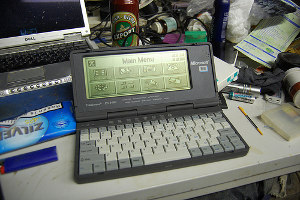 MASTER Tidalwave PS-1000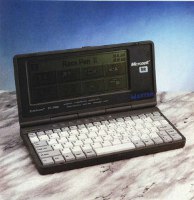 Zeos Pocket PC (Tidalwave clone)

Highscreen Handy Organizer (Tidalwave clone)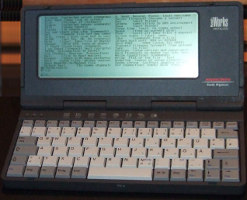 Peacock Palmtop PC (Tidalwave clone)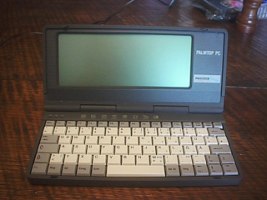 Targa Traveller PT 30 /PS-1000 (Tidalwave clone)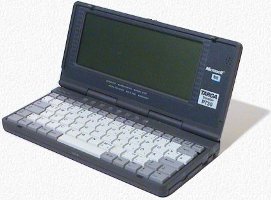 Okano PT-100 (Tidalwave clone)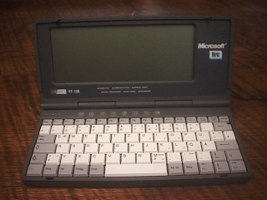 Sharper Image Palmtop PC (Tidalwave clone)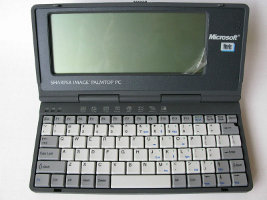 ProLinear PS-1000 MiniNote (Actually a non-branded Tidalwave PS-1000)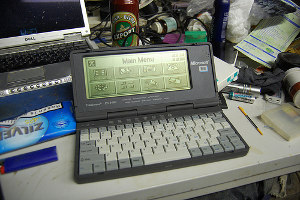 Mitsuba Palmtop (Tidalwave clone)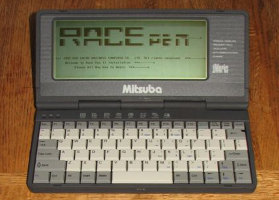 Okii Mura Palmtop (Tidalwave clone)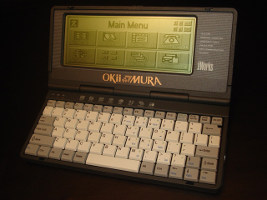 Reeves PS-1000 Palmtop PC (Tidalwave clone)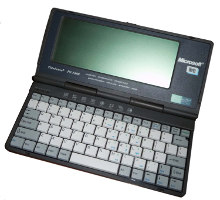 Belim Pocket PC (Pocket-PC)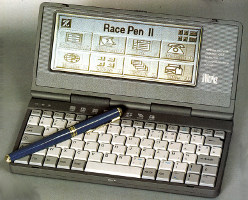 Trac Traveler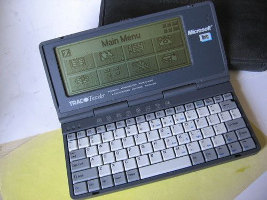 Philips HC-101 Computer Organizer (Handy PC)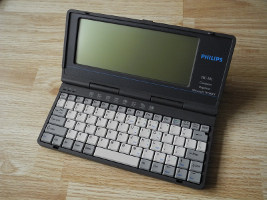 Megamini M323

Infopool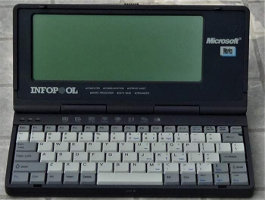 ---
Tidalwave 386 series:

TidalWave PS-3000 (TidalWave ME-386)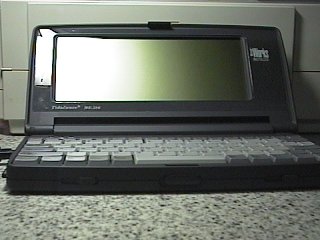 ProLinear PS-3000 (ProLinear ME-386)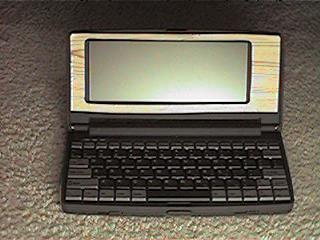 PalmBook 386 PALMTOP PC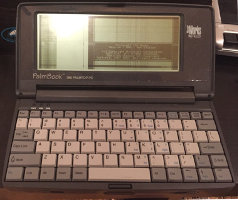 ---
Memorex Commuter Computer Clones (Actually also made by Tidalwave, but with DR DOS):



Memorex Commuter Computer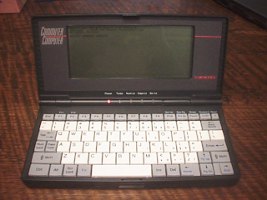 ASI Pocket Personal computer (Memorex Clone)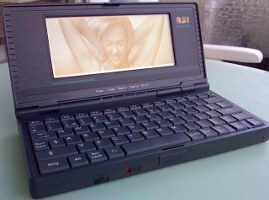 Super Mini Pocket Personal Computer (Memorex Clone)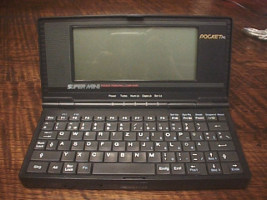 Cal-Comp Pocket PC-01(Super Mini Pocket Personal Computer clone/Prototype)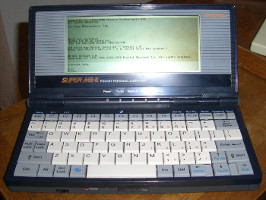 Elox Mini PC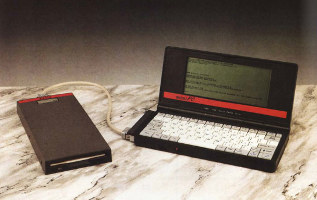 ---

Instant Tech PTP-20 (Group Sense Limited Instant Tech PTP-20)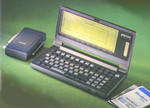 Instant Tech PTV-30 (Instant tech PTV30-2)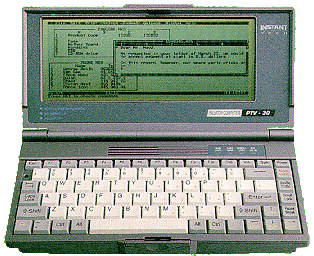 ---

Lexicomp LC-8600 (Moving Pocket LC-8600)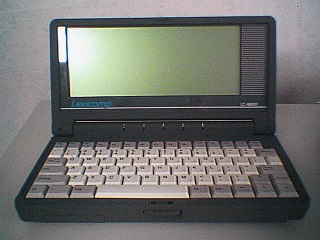 Lexicomp LC-8620 (Moving Pocket LC-8620)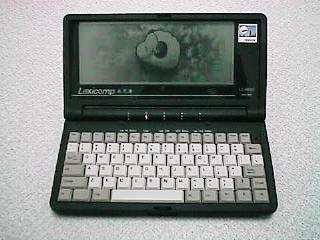 Lexicomp Gradebook 2000 (EGS)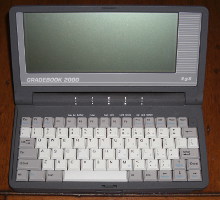 ---

NEC MC-MK32 (NEC MobileGear MC-MK32)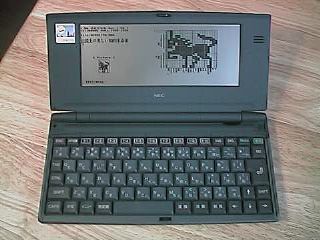 NEC MC-MK22 (NEC MobileGear MC-MK22)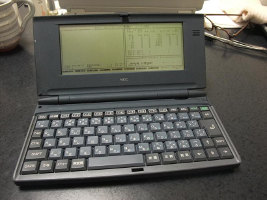 NEC MC-MK12 (NEC MobileGear MC-MK12)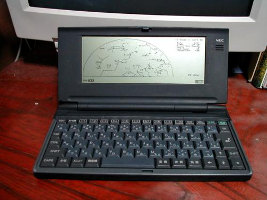 NEC MC-MK11 (NEC MobileGear MC-MK11)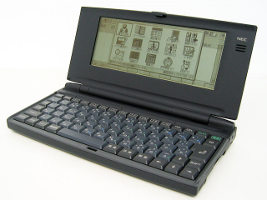 NEC MC-K1 (NEC MobileGear MC-K1)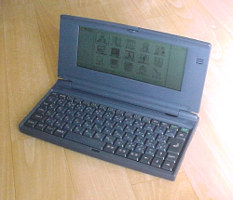 NEC MobileGear for DoCoMo (branded NEC MC-MK12)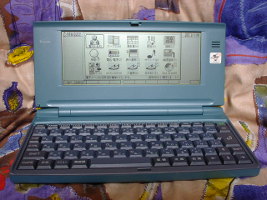 ---
Others:

Mitac 1600A Palmtop PC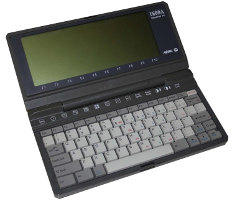 Fujitsu OASYS Pocket 3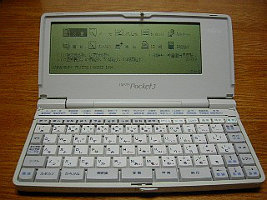 IBM Palm Top PC 110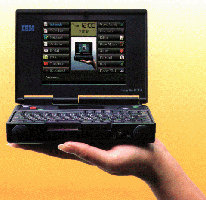 DIP Pocket PC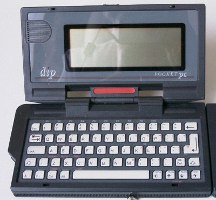 Atari Portfolio (Atari PC Folio)

NEC PC-98HA Handy98 (Li-Ion Battery)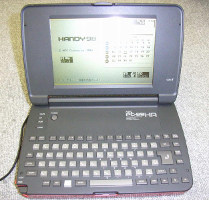 ---
A bit larger than a "Palmtop" (Subnotebooks):

Highscreen A5 PC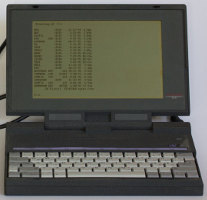 Lexmark Lexbook MB10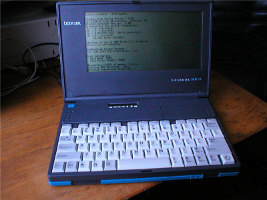 Lexmark Lexbook MB15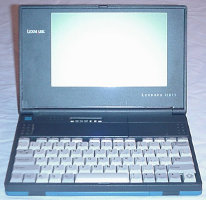 Bicom 260i (ABC Computers Hong Kong, also marketed as Biblebook B260i)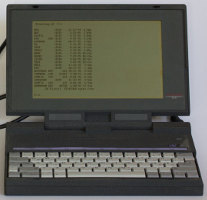 Bicom 240i (ABC Computers Hong Kong, also marketed as Biblebook B240i)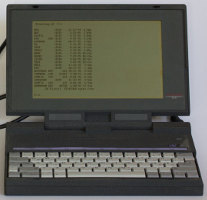 Bicom SL60 (ABC Computers Hong Kong)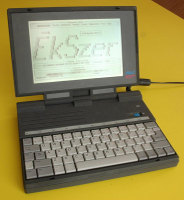 HP Omnibook 300 (OB300)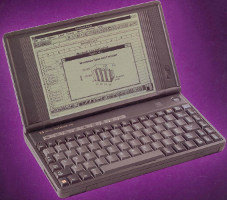 HP Omnibook 425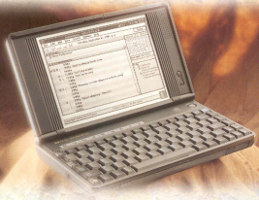 HP Omnibook 430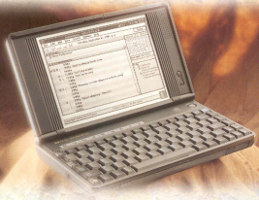 Fujitsu InterTop Model 10 (Li-Ion battery)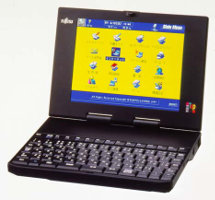 Fujitsu InterTop Model 20 (Li-Ion battery)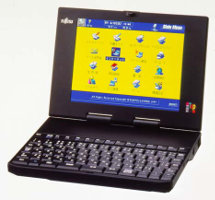 Intertop for DocoMo (OEM version of the InterTop Model 20)

Fujitsu FMR-Card (Another Fujitsu, 80286, 2 AA-Batteries)

Fujitsu FMR-50Card (386 Version of the FMR-Card)

Alexel "Navi Connection portable Office" (OEM Version of the Omron massif)

HP Omnigo 100 (Geos on DOS 6.2 - it is possible to access DOS, but 240x240 screen will not allow anything but text mode)

HP Omnigo 120 (Same as 100 with a bit updated software in ROM)

Gateway 2000 Handbook 286 (Li-Ion Battery or AA-Battery adaptor)

Gateway 2000 Handbook 486

Olivetti Quaderno (PT-XT-20)

Olivetti Quaderno 33(PT-AT-60)

OMRON Massif

Mitsubishi Amity CN

NEC Ultralite




---


Supposed to exist but never seen in the wild (Or they just lack branding so I'll never notice):



Underware Electronics 386SX (Supposedly there are similar systems by DAK and Sharper Image, never seen)

Underware Electronics V30 Palmtop (Supposedly a Tidalwave PS-1000 clone, never seen)

Spectrum P2000 Palmtop (Tidalwave clone, supposedly distributed in Australia)

Brilliant Palmtop (by Brilliant System Ltd in Hong Kong, Supposed to have been released in may 1994, never seen. Company still exists and makes translators)

PocketLyte (by Tele-Art in Hong Kong, Supposed to have been released August 1994, 14.3 MHZ NEC 80c88,1M RAM, one Type 2 PCMCIA slot .72 x 3.6 x 6.6 @ 10.2 ounces,MS-DOS 5.0, MS-Works 2.0, InterLink, Bitfax, PIM. $399. Never seen)

Coditech (Supposedly a mexican palmtop with V-30 and MSDOS 5, no kidding. Sounds like a standard PS-1000. Never seen)

Logitech PC-20 (A taiwanese palmtop by a company that had the same name as they guys making mice and keyboards. Never seen. Company was renamed to "Logicom" for obvious reasons.)

Logitech Ulysse (The first palmtop by the Company now known as Logicom. Never seen)

Wiso PC-7000 (Taiwanese palmtop by Wiso Electronics Co., never seen)

Wiso PC-7200 (Same as above but supposedly with larger screen. Never seen)

Palmcom 286 (Might be a bit larger, never seen, they were sued by FCC after Comdex 1992)

Copam PT86s (An FCC ID seems to have existed. Was announced for September 1992. Never seen)

Copam PT 860 (Unknown, was mentioned in some PCMCIA manual as a "palmtop". Never seen)

Intertan PPC10 (Only article i found showed a Highscreen branded Tidalwave. Fake?)

Lexicomp LC-8642 (Was announced as the chinese Version of the LC-8620. Seems only the software was changed. Never seen)

Lexicomp LC8600H / LC-8600S (I think these were prototypes with Kittyhawk HDD and Solid State HDD. Never seen)

Memorex Commuter Computer II (Supposedly an updated version with more RAM, built-in modem and a newer DR-DOS 6. never seen)

Bytech Inc. Palmtop PC (Was supposed to be a Tidalwave clone)

Exus Pocket (Supposedly a Tidalwave ME-386 clone. Never seen)

Sphere Palmtop (Supposedly a Tidalwave clone sold in Australia?)

Hercules PS-1000 (A Tidalwave PS-1000 clone. Never seen)

REF TEK Pocket PC (A Tidalwave clone, probably just a regular PS-1000 bundled with some seismographic sensors)

S.T. Research Ultimax 2000 (Rugged Palmtop for military. 7.8 x 4.5 x 1.6 inches, 800 gram incl. 4 AA-Batteries, 4MB RAM, 2 MB Flash, PCMCIA, 320x240 backlit display, 640x200 with panning, 386SX. Supposedly released april/may 1996. List price 3900 USD. Never seen)

S.T. Research Ultimax 4000 (Probably released as Ultimax 4000A, 486 with optional colour screen, capable of running Windows 95/NT - so probably higher res screen, 1.5 Kg. Never seen)




---


Other honorable mentionings:

Nokia Communicator 9000 (Intel 386, Based on ROM-DOS/GEOS, but Keyboard won't work in DOS shell and graphics mode is incompatible with pretty much everything)

Nokia Communicator 9110 (AMD 486, Based on ROM-DOS/GEOS, but will not allow normal CGA by using odd BIOS calls. Thus no DOS appz work that use graphics)




---


More, more, MORE! (Now we're getting greedy, eh?)



Some laptops fall more into the "Windows" category but could be abused to run DOS:

- Toshiba Libretto 50

- Toshiba Libretto 70




Software

General Tips and Tricks